After contending with Atlanta's Friday afternoon traffic and a late-day summer downpour, Charles and I were a little late getting to the opening reception of the Atlanta Equestrian Exhibition at The Gallery at Paper Mill Village in Marietta GA. Things were in full swing when we got there, and I was thrilled when we walked in and saw that big purple ribbon...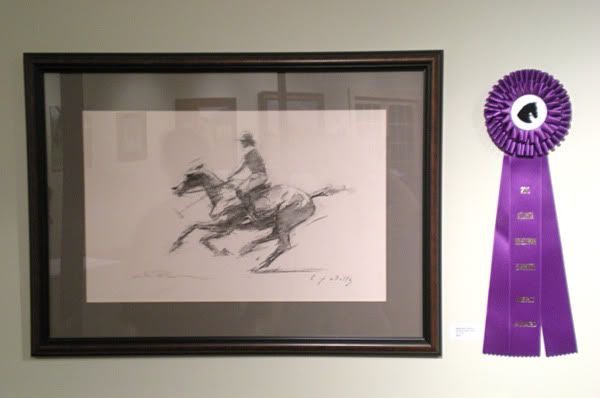 Charles' charcoal sketch of a polo pony in action, "Afternoon Practice," had received one of 7 unranked Awards of Excellence!
We had a great time at the reception talking art with other artists, collectors and Facebook friends. We met the exhibition juror and judge, well-known equine and canine artist Robert Christie, along with fellow award winner Len Jagoda from Columbus GA, both of whom are pictured chatting with Charles in the photo below. Mr. Christie made a point to praise the movement, power and speed of the horse that Charles had captured in "Afternoon Practice."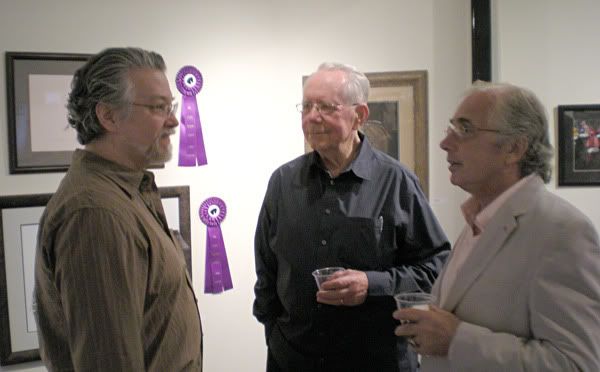 The exhibition includes 50 pieces of equestrian art from artists across the country - paintings, drawings and sculpture covering a wide range of artistic styles. The show will remain up until August 28.
Check our previous blog post for more information.