The POSH table top palette is a stand out among wooden artist palettes.
- POSH palette at New Wave Art's website
- New Wave Art on Facebook
As an oil painter I believe everything we do to create artwork is important. Good/high quality oil colors, brushes and canvas all go into making painting an enjoyable endeavor. Along with these painting essentials is the artist's palette. Whether wood or glass/plexiglass, hand held or tabletop, the choice of which palette to use is one that I suggest requires serious consideration.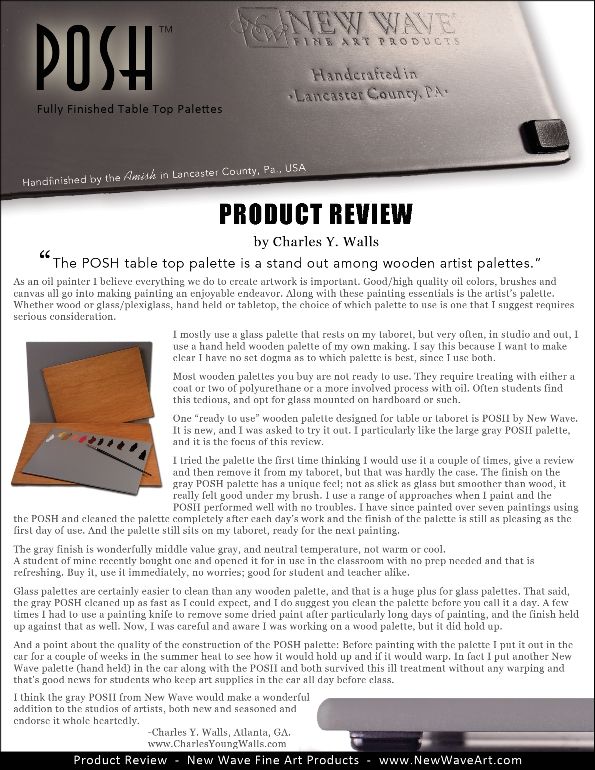 I mostly use a glass palette that rests on my taboret, but very often, in studio and out, I use a hand held wooden palette of my own making. I say this because I want to make clear I have no set dogma as to which palette is best, since I use both.
Most wooden palettes you buy are not ready to use. They require treating with either a coat or two of polyurethane or a more involved process with oil. Often students find this tedious, and opt for glass mounted on hardboard or such.
One "ready to use" wooden palette designed for table or taboret is POSH by New Wave. It is new, and I was asked to try it out. I particularly like the large gray POSH palette, and it is the focus of this review.
I tried the palette the first time thinking I would use it a couple of times, give a review and then remove it from my taboret, but that was hardly the case. The finish on the gray POSH palette has a unique feel; not as slick as glass but smoother than wood, it really felt good under my brush.
I use a range of approaches when I paint and the POSH performed well with no troubles. I have since painted over seven paintings using the POSH and cleaned the palette completely after each day's work and the finish of the palette is still as pleasing as the first day of use. And the palette still sits on my taboret, ready for the next painting.
The gray finish is wonderfully middle value gray, and neutral temperature, not warm or cool. A student of mine recently bought one and opened it for in use in the classroom with no prep needed and that is refreshing. Buy it, use it immediately, no worries; good for student and teacher alike.
Glass palettes are certainly easier to clean than any wooden palette, and that is a huge plus for glass palettes. That said, the gray POSH cleaned up as fast as I could expect, and I do suggest you clean the palette before you call it a day. A few times I had to use a painting knife to remove some dried paint after particularly long days of painting, and the finish held up against that as well. Now, I was careful and aware I was working on a wood palette, but it did hold up.
And a point about the quality of the construction of the POSH palette: Before painting with the palette I put it out in the car for a couple of weeks in the summer heat to see how it would hold up and if it would warp. In fact I put another New Wave palette (hand held) in the car along with the POSH and both survived this ill treatment without any warping and that's good news for students who keep art supplies in the car all day before class.
I think the gray POSH from New Wave would make a wonderful addition to the studios of artists, both new and seasoned and endorse it whole heartedly.
-- Charles Young Walls, Atlanta GA