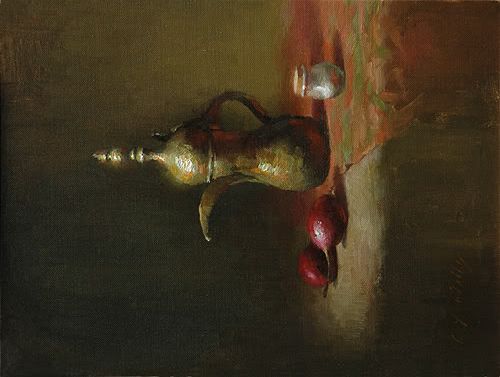 Charles' still-life painting "Remnant of Empire" has had the honor of being chosen to hang as part of Oil Painters of America's Eastern Regional Exhibition of Traditional Oils.
Only 98 pieces were chosen for this show, out of submissions from OPA members across the entire eastern half of the country.
This year's Eastern Regional is hosted by the Walls Fine Art Gallery in Wilmington NC. (The gallery has no connection to us, its name is just a coincidence.) The show will hang at their upscale Mayfaire Town Center location from October 15-30, and then at their permanent location from November 1-13.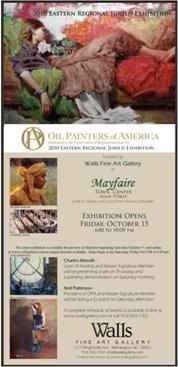 The opening reception on the evening of October 15 is only one of many events that the gallery has organized for the occasion. Attendees will be kept busy for three days with presentations, demonstrations and panel discussions. All the events are free and open to the public and collectors and art enthusiasts are encouraged to attend. To this end, the gallery has made available a PDF version of the invitation flyer for sharing.
The entire exhibition is available to view online on the gallery's website. The folks there have also produced a very nice video/slide show with the exhibition pieces interspersed with photos of the artists at work. Along with "Remnant of Empire's" cameo at the 3:52 mark, two pictures of Charles in the studio are also included at 2:19 and 5:02.
--------------------------------------------------------------
2010 Eastern Regional Juried Exhibition of Traditional Oils
October 15 - November 13, 2010
opening reception: Friday Oct. 15, 6-10 pm
6842 Main Street, Wilmington NC 28405
910-343-1703 --
info@WallsGallery.com