More Than A Likeness: Capturing Character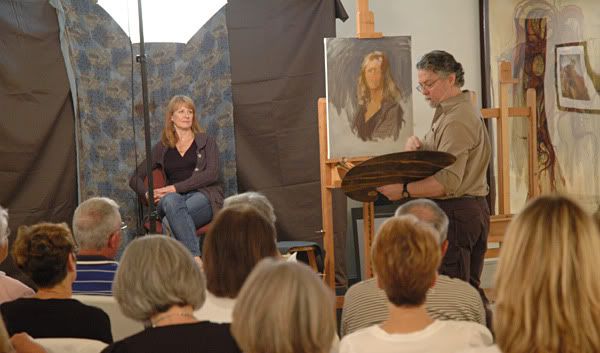 In conjunction with his recent one man show, the
Quinlan Visual Arts Center
hosted Charles for a portrait painting demonstration and talk on the evening of June 24. Sponsored by a grant from The Arts Council of Gainesville and the Georgia Council for the Arts, the program was open to the public free of charge.
A wonderful write-up in the Gainesville Times that morning
helped pack the main gallery with more than 60 enthusiastic observers. Charles talked on a variety of topics while he painted over the course of almost three hours.
The Quinlan's Executive Director Amanda Kroll was effusive in her comments about the evening: "You gave so freely of your time and talent to help us pull off what was undoubtedly one of our most successful new events in years. I think from a philosophical approach, you really made an impression with the artists that attended as well as the art appreciators, and that was exactly what we were trying to do... I hope that as we look into the future, we can continue to work with you and to promote you as one of the finest artists in Georgia..."
An album of photos from the evening is available on Charles' Facebook page.