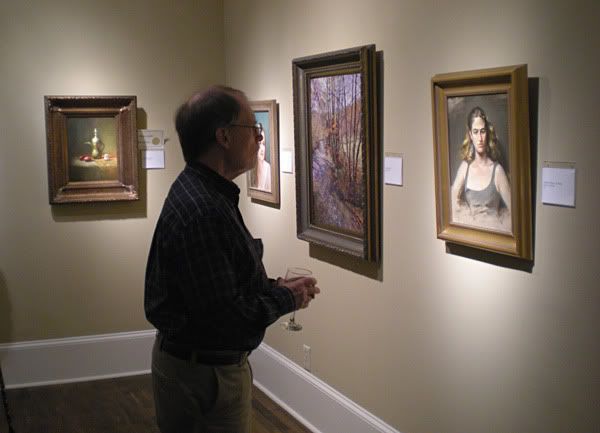 I've been a bit behind schedule in updating this page lately (things are getting busy around here), which is why I'm only just now reporting on an opening reception that happened 6 weeks ago!
This year's Members Exhibition of the Atlanta Fine Arts League was held at the Marietta/Cobb Museum of Art, just off the square in Marietta GA. On the evening of March 27 the museum's downstairs galleries were packed for the opening reception.
Charles had 3 paintings in the show - the laid-back portrait "Takin' it Easy - a study," the sparsely elegant still-life "Remnant of Empire," and a brand new still-life painting "Gilt Vase with Plums."
The exhibition was judged by the Marietta-based artists Neil and Karen Hollingsworth. We were thrilled when Charles received an honorable mention for "Remnant of Empire."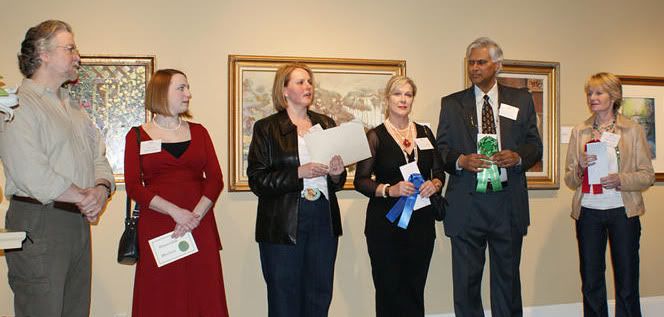 The Marietta Daily Journal wrote a very nice article about the exhibition, showcasing Marietta resident and fellow honorable mention winner Jenny Lyon, on Charles' left in the photo above. Also among the award winners in the photo are Lisa Gleim, Leah Henry, Siva Nyayapathi and Donna Colleran.
The article quotes Museum Director Sally Macaulay as saying that the AFAL exhibition features "some of the best work I've seen." The show will remain on view until June 26. I highly recommend stopping by to enjoy it.