Adrian Worthington, 19, of Rex GA and Hampton GA enlisted in the Army in June 2006 and served his country proudly but unfortunately succumbed to wounds sustained from a roadside bomb detonated near his unit on May 22, 2007 in Taji, Iraq.
In this posthumous portrait, Charles portrays Adrian in his full dress uniform, proudly displaying the medals and commendations awarded to him that he never got the chance to wear. (24 x 20, oil on canvas)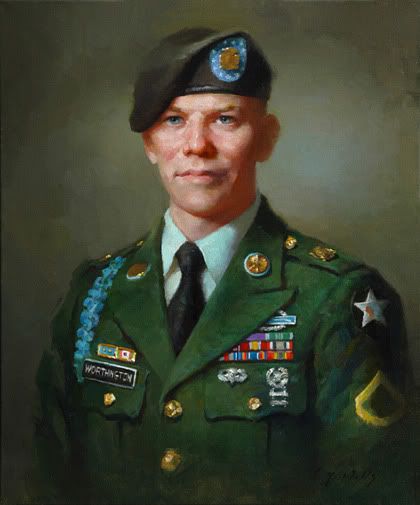 This portrait was created as a part of the Atlanta Fine Arts League's wonderful community project Art From the Heart, which links professional portrait artists willing to donate their time and talent with the families of American soldiers from Georgia killed in Iraq or Afghanistan.
Adrian's obituary and guest book are available to view here. Reprints of articles in the Atlanta Journal Constitution and the Henry Herald are also available. A few family photos have been posted on the Iraq War Heroes website.
The Worthington family owns and operates the Worthington Tree Farm in Hampton GA which serves as the central Georgia collection point for "Trees for Troops" every Christmas season.