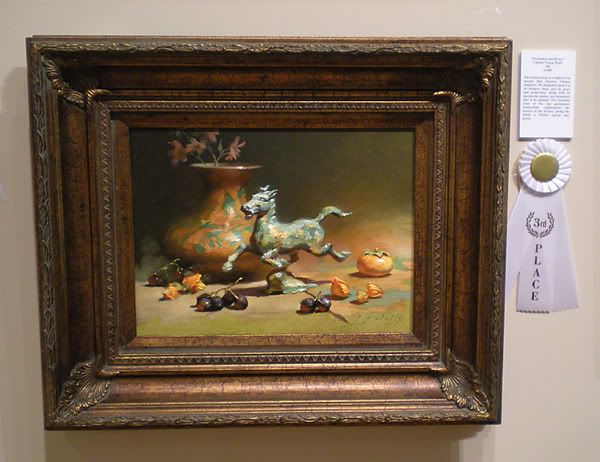 "Persimmon and Bronze" has been awarded 3rd place at the 2009 Hilton Head National Juried Exhibition!
Friday, May 1st, marked a beautiful weekend for a quick trip out to Hilton Head Island SC. The Art League of Hilton Head had two days of events planned for the opening of their 21st National Juried Art Exhibition - the awards reception on Friday evening and a "Critic's Luncheon" with juror Craig Srebnik Saturday afternoon.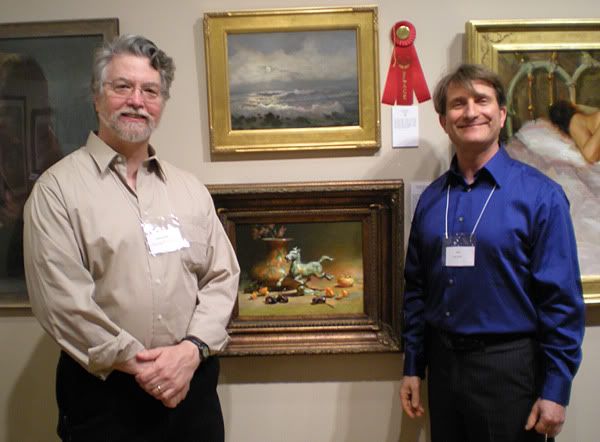 From over 600 entries, the 108 final pieces were on display in the beautiful Walter Greer Gallery of the Arts Center of Coastal Carolina. One very nice touch they included that I really liked (and had not ever seen done before) was the inclusion of a few-sentences-long statement provided by the artist to the work's information card, in addition to the usual title, size, medium and price. It provided a connection point with the viewer and an insight into the artist's mind and, I believe, really enhanced the show. All the cards were of a uniform size and made for a very impressive overall display.
The Saturday Critic's Luncheon was also a nice addition that I'd not seen before. It allowed the juror an opportunity to speak at length on his judging criteria. He also went step by step through the award winners explaining why each piece worked and why he's ranked them as he had.
Our day wrapped up with a visit to Morris & Whiteside Gallery. WOW! It was like getting a private tour through a small but exquisite museum.
The photos included above are: the obligatory award ribbon shot (you can also see the artist's statement/information card here), Charles and juror Craig Srebnik at the awards reception, and Charles chatting with Best of Show winner Ron Barsano (with both of their paintings in the background) after the Critic's Luncheon on Saturday.
-----------------------------
The Art League of Hilton Head
2009 National Juried Art Exhibition
May 2 - 24, 2009
Walter Greer Gallery, Arts Center of Coastal Carolina
14 Shelter Cove Lane, Hilton Head SC 29928
843-681-2399 - http://www.artleaguehhi.org/