On April 28th, Charles had the great honor of a personal visit by Steve Salek of Vasari Classic Artists' Oil Colors.
Steve and his assistant Joshua found themselves passing through Atlanta on their way home from a weekend at the New Orleans Jazz Festival and just wanted to drop in and say hello! That happened to be the day of Charles' painting class at Binders, and several of his students stayed late after class and got to meet one of the greatest paintmakers living today!
Charles has always been effusive in his praise for Vasari, for he feels that it would be impossible to overstate the quality of their paint. For many years now, he has used Vasari almost exclusively. So when Steve called to see if it would be alright if he and Joshua dropped by to say hello, we were floored and very honored. Though their visit was brief, it was thoroughly enjoyable and they left behind much warmth and good will.
So what is it that makes their paint so great? Well, Vasari Oils are handcrafted all the way. The pigments are precisely ground and mixed by hand in small batches without fillers of any kind. They are then loaded into their tubes, crimped and labeled by hand as well. Because of all this hands-on attention they are able to make the colors much more heavily pigmented than other brands. This results in a palette of jewel-like brilliance. So many times when Charles is setting up for a demonstration, people in the audience will see these vibrant colors and exclaim "What is THAT!"
Vasari is a small operation with only one retail store, located in Manhattan just off Times Square. Whether you call or drop by in person, Gail Spiegel will likely be the person you talk to there. She is an amazing fount of knowledge of all things pigment. If you happen to be there in the store (which we highly recommend next time you're in NYC), ask her about any of their wonderful colors and she'll immediately begin showing you its working properties and possible combinations on their huge mixing board. Many times Charles has left there with more paint than what he'd intended, and thrilled with his new discoveries.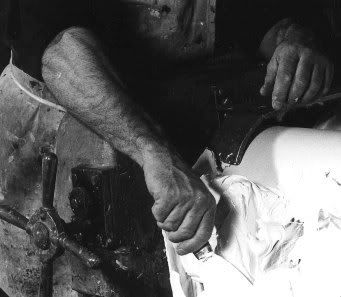 Behind the scenes, and making all this possible, is Steve Salek, master paintmaker. Steve has invested many years into careful and thorough research of the old world, traditional paintmaking methods. He describes it as just his commitment to bringing the best materials to the art of painting. The fact that he allows the rest of us to benefit from all his hard work is amazing.
Steve makes great paint, which helps Charles makes great art. We love Vasari and were honored beyond words by their visit!