I just love this new painting. From the first day Charles had it up on the easel it just struck us as something special. With some pieces you seem to know early on that they will work out well. I especially like how both the composition and the shape of the canvas carry you through the image from the dark into the light. (14 x 24, oil on linen, 2008)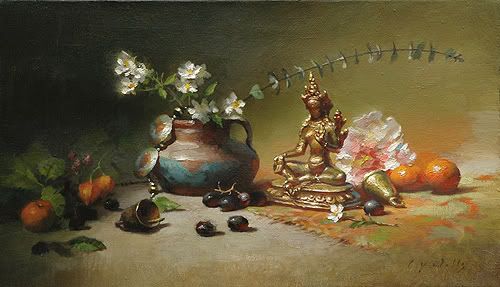 The statuette in the painting is a figurine of the Buddhist goddess Tara who, in that religion, represents virtuous and enlightened action and universal compassion. She is believed to help her followers overcome dangers, fears and anxieties and to guard them on their spiritual journey to enlightenment. Here she sits serenely in the light, surrounded by lush fruits and flowers.
I've also included a detail so you can really appreciate the brushwork on this. Amazing!