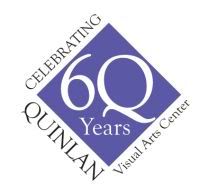 The Quinlan Visual Arts Center has just confirmed the dates for the spring session of Charles' oil painting class. Apparently they've been getting lots of requests and queries about it, so I wanted to post these as soon as I had them.
Painting: Design and Technique will be held Wednesday afternoons and evenings from February 11 - March 18, 2009. We hope to see you there as we all start a new year of artistic growth and development!
And congratulations are in order for the Quinlan's new Executive Director, Amanda Kroll! We've enjoyed working with her for several years now in her position as Assistant Director and we look forward to helping her strive for her goal "to make the Quinlan among the top visual arts centers in the nation."
----------------------------------------
Painting - Design and Technique
Wednesday afternoons (1-4 pm) or evenings (6:30-9:30 pm)
$150 (members) $165 (nonmembers) for six weeks
Session dates : Feb. 11 - Mar. 18, 2009
Quinlan Visual Arts Center
514 Greene St. NE, Gainesville GA 30501
http://www.quinlanartscenter.org/
770-536-2575 or email info@QuinlanArtsCenter.org