Joyce Golinsky, a student of Charles' from the afternoon painting class at Binders, recently wrote the most wonderful statement about her recent artistic development and her experiences in Charles' class. She started with Charles at the beginning of the year after seeing "Takin' it Easy - a study" hanging at the Atlanta Artists Center last November.
She has given us her permission to post her words here. And while Charles may blush at the praise, I'm gonna jump at the chance to share this with everyone...
-------------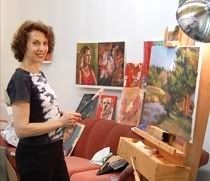 Finding the right teacher to take me to the next level was not easy. I was looking for one that not only has a high degree of technical knowledge, but also could connect to my individuality, with the ability to help me develop as an artist.
I am very happy to say that Charles Walls is absolutely one of the best art instructors I have ever taken from! He not only is a fantastic artist, he is a passionate teacher.
His sincere desire to impart art principles, while focusing on steps for an individual's development, enables him to analyze the best approach for each student.
I am thrilled and excited to have found a true teacher, capable and willing to help me achieve my artistic goals. Thank you, Charles!
Sincerely, Joyce Golinsky
-------------
Painting - Design and Technique
next session dates: Dec. 2, 9, 16, Jan. 13, 20, 27
Tuesday afternoons (1-4 pm) or evenings (6-8:30 pm)
$140 for six weeks

The Art School at Binders
Piedmont Peachtree Crossing
3330 Piedmont Road, Suite 18, Atlanta GA 30305
http://learning.bindersart.com/
contact person: Kristina Breneman -
404-237-6331 ext. 203