It occurred to me the other day that I had not posted anything yet about the recent drawings only exhibit sponsored by the Atlanta Fine Arts League. You don't see many juried shows limited to drawing media only, so this was a rare treat. And believe me, there were some exceptional pieces there.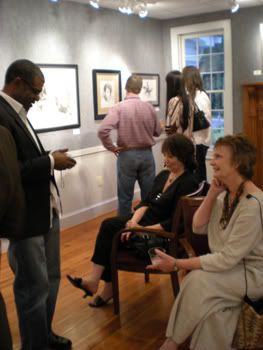 The exhibition was juried and judged by John de la Vega, who drove in from Kitty Hawk, NC for the awards reception. Charles and I first met him last year at the annual conference of the Portrait Society of America in Washington, DC. It was a pleasure to see him again, he's always so charming!
Among the pictures I've included here are: Charles with his charcoal drawing "Afternoon Practice," John de la Vega addressing the group just prior to the awards presentations, and some general opening reception crowd shots.
You have another week if you'd like to stop by and see the show - it closes on September 25th.
--------
Atlanta Fine Arts League
Simply Drawn: an exhibition of monochromatic drawings
September 6 - 25, 2008
The Art Station Big Shanty
2050 Kennesaw Due West Road, Kennesaw GA 30152
770-514-5930 -- tas@ncart.org